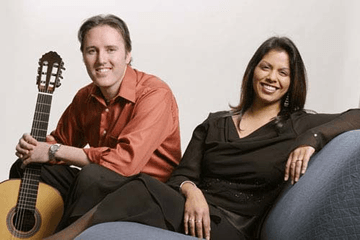 The Dearing Concert Duo is a Michigan based classical guitar and voice duo. Steven Dearing and Abha Dearing are heard throughout the United States and Canada in a range of venues. The Dearings made their European debut during the summer of 2002 with eight concerts including the Cheltenham International Music Festival.
What makes them unique is the broad range of versatility they offer; not just in repertoire but also in programming. They come together with unique and exceptional training and this merging of talents is, in the words of more than one music critic "magical."
Abha Dearing is an award winning spinto soprano who has been performing her entire life. She has sung at venues on three continents. She is also a gifted flutist.

Steven Dearing's strong technique allows him to be equally adept as both a solo guitarist and an accompanist. He has studied with exceptional artists and has a wide repertoire.
Named Detroit Music Awards' "Outstanding Classical Ensemble" in 2003 and 2002, the Dearing Concert Duo performs at concert halls, universities/colleges, historic churches, art museums, living rooms, as well as many other sites.
The Dearing Concert Duo is a metro Detroit Michigan classical music duo performing in weddings and concerts, a unique mix of virtuosic music for Voice and Classical Guitar, Flute and Classical Guitar and solo guitar covering a broad range of styles. Highlights include works by South American and Spanish composers such as Piazzolla, Rodrigo and DeFalla and solo guitar works by Dyens, Tansman and Pujol.